JCA Elite Scuba instructs recreational and technical divers throughout the Pacific Northwest. Choosing the best certification is easy. Look for a program that lets you set the schedule, take as long as you want, and an instructor that gives personal and individualized attention.
Even if your time is limited, safe, complete, and flexible instruction will always be the first priority. That's what I do! Join me and learn to dive, refresher your skills, or take your training to the next level. I want you to become a great diver and have experiences that will last you a lifetime! Offering Snorkeling, Refresher Courses, Scuba Diving, and Technical Diving Training.
Now offering SDI's Solo Diver Course
Be sure to check out my Facebook page for trips, events, gatherings, camp-outs, and activities aw well as my YouTube Channel for awesome videos on diving, education, and the underwater world.
"Every dive is a dream come true..."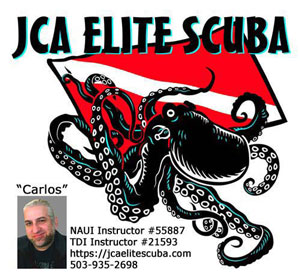 Call 503-935-2698 or email me to today to sign up