Hello fellow divers, students, and everyone thinking about learning how to scuba dive. This year has really seems to have flown by! Diving in the Puget has been pretty good. I've already logged 96 dives this year for a total of
1.713
and issued another 30 certifications.
Dugan Falls was really fun and I finally got some video of all the Steelhead swimming around in it! The water wasn't as cold as last year, either.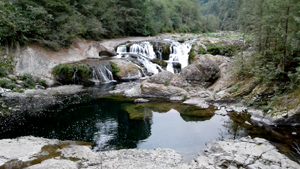 Diving on the Channel Islands had some good moments. It was nice to check out some new dive sites and new creatures. My favorites really were the
Sea Hares
. Some of them were a foot long! I think the coolest thing I got to see were the
Red Crabs
. There were thousands of them. I got to float in the water and watch them bob up and down. It was quite mesmerizing. I'd really like to go back...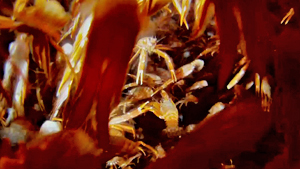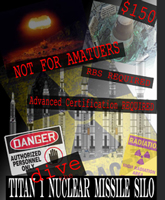 Many have voiced an interest in diving the Titan One Missile Silo. We only need 5 or 6 to make it happen. So, if you want to do it, let me know. I'll pick a date a couple months out and I'll set it up.
It's not a hard dive to do, but you have to be comfortable in a dark environment. It is not an "overhead" environment. I can get you ready if you feel you need to build your skills. It's one of those things to do at least once.
It looks like we missed the opportunity to do our annual "Clear Lake, Camp and Dive" trip. The weather has been funky but if there is enough call for it and we can grab a day that is warm enough and a night that is not too cold, I'd be willing to go. During the winter time, they are is usually snowed in, so there isn't much time left if there is interest.
Some of you might have noticed that I've been pretty busy on rolling out more and more videos on my
YouTube Channel
. Making the videos has been fun, but the underlying reason that I want to keep doing it is that the dive industry needs some work in several areas. The numerous videos on BLS/CPR & First Aid are FREE for everyone to review. Even if you don't need a certificate, please watch them. You might save a life! If you want a formal certification then we'll set up a class for you or you and your group. There are also several videos on scuba diving education that will make a great refresher course especially if you are so inclined to brush up on your physics and physiology.
Some of the videos have strong critiques about many of the problems I see happening in the dive industry. If you were one of my students then you've seen several of the videos I share in class. For those that weren't, please check out, "
Situational Awareness
,"
Accident Intervention
,
Paniced Diver Ascent
and
Who's the Barber
. My goal is to provide safe and thorough dive training while having lots of fun, however, when I see instruction that is crap, I call it out. There is a lot of really bad training out there! Lets make it better.
If there is anyone out there that wants a review of their skills or are worried that they might not have received the best education from any instruction before finding JCA Elite Scuba, please call me. I'll take care of you.
Please keep warm thoughts in your hearts and minds for those that have fought bravely, served proudly, and selfishly give to others without asking for anything in return less a little respect and friendship.
Happy diving!
--carlos
SUBSCRIBE
http://mailchi.mp/e1bf76204f68/being-grateful-on-september-11th-and-the-opportunities-i-have-been-graced-with