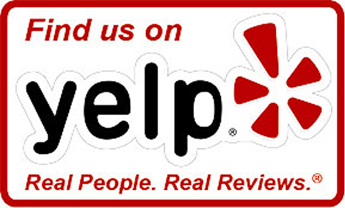 My "Oscar" just got taken away from me!
However, its happened to me 10 times...
https://www.yelp.com/biz/jca-elite-scuba-lake-oswego

The link above is where you can find my primary yelp review for my business, JCA Elite Scuba. I've been in business since around October of 2013 although I've been teaching since 2008 and diving since 2006. Scuba is fun! It is also incredibly rewarding to see someone do something they never have before. When they get it, a world opens up to them that still many can never appreciate. With that said, when one of these people go out of their way to write a review and then an "algorithm" decides that it doesn't meet preconceived notions of quality, character, content, or even legitimacy, then it really is the machine writing the review.

Yelp states, "We get millions of reviews from our users, so we use automated software to recommend the ones that are most helpful for the Yelp community. The software looks at dozens of different signals, including various measures of quality, reliability, and activity on Yelp. The process has nothing to do with whether a business advertises on Yelp or not. The reviews that currently don't make the cut are listed below and are not factored into this business's overall star rating."



The reality of this is that the software was written by people as were the reviews. A software engineer can never be impartial unless they are writing a random number generator program. Even then, when the software is an industry "trade secret," a level of personal bias cannot be disproved. There are other entities that collect customer's reviews of their experiences without "sanitizing" them before revealing them to the public for their safety.

Anyway, here is what I've got hidden in the section called, "Reviews for JCA Elite Scuba that are not currently recommended." They follow with, "Note: The reviews below are not factored into the business's overall star rating," however that doesn't make me feel any better about having the reviews hidden from the general public.






Kamel B.
Hillsboro, OR
1 friend
4 reviews
5.0 star rating 5/24/2017

You'll rarely see an instructor with Carlos' level of passion and focus. Very knowledgeable and you'll end up learning more than what you expect.






Liset L.
San Diego, CA
1 friend
1 review
5.0 star rating 4/23/2016

I don't dive myself, but I referred my sister to Carlos to learn scuba. I took his snorkeling class because I wanted to be more comfortable in the water It was great watching my sister learn how to do all that stuff. I've known Carlos for a really long time. When he became a scuba diving instructor, I thought he was crazy but he's really happy!. Carlos makes sure the ones you love are safe, well trained, and have lots of fun. I bought my sister scuba lessons for graduating from college and we went to Cozumel to celebrate! We had the best time. The best part is he flew to San Diego to teach us and on our schedule! If you want to learn to scuba or snorkel, I highly recommend Carlos to teach you.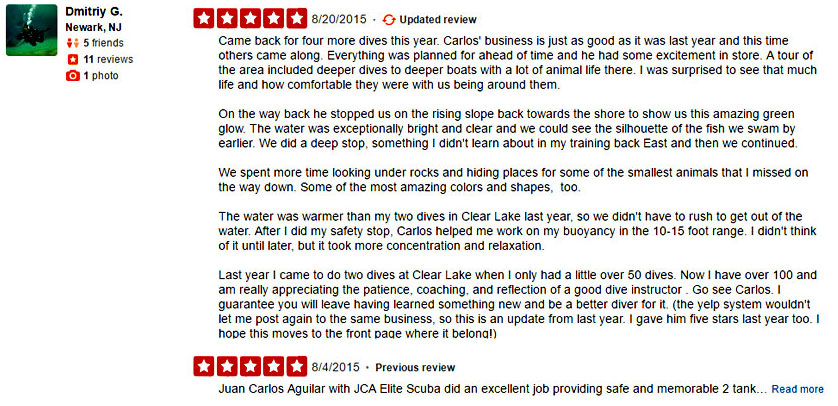 Dmitriy G.
Newark, NJ
5 friends
11 reviews 1 photo 5.0 star rating 8/20/2015 Updated review

Came back for four more dives this year. Carlos' business is just as good as it was last year and this time others came along. Everything was planned for ahead of time and he had some excitement in store. A tour of the area included deeper dives to deeper boats with a lot of animal life there. I was surprised to see that much life and how comfortable they were with us being around them.

On the way back he stopped us on the rising slope back towards the shore to show us this amazing green glow. The water was exceptionally bright and clear and we could see the silhouette of the fish we swam by earlier. We did a deep stop, something I didn't learn about in my training back East and then we continued.

We spent more time looking under rocks and hiding places for some of the smallest animals that I missed on the way down. Some of the most amazing colors and shapes, too.

The water was warmer than my two dives in Clear Lake last year, so we didn't have to rush to get out of the water. After I did my safety stop, Carlos helped me work on my buoyancy in the 10-15 foot range. I didn't think of it until later, but it took more concentration and relaxation.

Last year I came to do two dives at Clear Lake when I only had a little over 50 dives. Now I have over 100 and am really appreciating the patience, coaching, and reflection of a good dive instructor . Go see Carlos. I guarantee you will leave having learned something new and be a better diver for it. (the yelp system wouldn't let me post again to the same business, so this is an update from last year. I gave him five stars last year too. I hope this moves to the front page where it belong!)

5.0 star rating 8/4/2015 Previous review

Juan Carlos Aguilar with JCA Elite Scuba did an excellent job providing safe and memorable 2 tank diving. I've always wanted to go there, so when I found the opportunity to go, I did. I came all the way from Newark, NJ. Very satisfied. Awesome dive.






Dino F.
Vancouver, WA
0 friends
1 review
5.0 star rating 1/6/2015

I found out about JCA Elite Scuba through Yelp, and I am glad I did! His prices are absolutely the most competitive. He was extremely helpful in choosing equipment for purchase depending on the type of diving you plan to do as well as how often you plan to dive. I had a tight schedule, and Carlos found a way to squeeze me in private lessons last minute so that I was certified in time for my trip to Belize. He was very knowledgable and patient - and above all emphasis on safety. Carlos Is a Master Instructor and an elite scuba diving educator who, through dedication and hard work, exemplifies what it means to be a scuba diving professional through his teaching efforts and professional conduct. That's why I am giving him my highest rating, Nine thumbs up!





Jack D.
Portland, OR
0 friends
2 reviews
5.0 star rating 12/16/2014

Patient, knowledgeable and flexible. Was so worth it too pay a little extra and get an instructor that really knows what he's doing. Totally accommodating with my crazy schedule. Had a great time and met some cool new people.






Alex B.
Portland, OR
0 friends
1 review
5.0 star rating 10/28/2014

Great instructor who takes a personalized approach to the needs of every student. Carlos goes above and beyond the certification requirements to ensure every person he trains is safe, comfortable and knowledgeable diver. He is also a cool person to dive with for fun. At any time.






Bill F.
Scappoose, OR
0 friends
1 review
5.0 star rating 10/25/2014

I took my Nitrox Certification course and test with Carlos. He was very friendly, knowledgeable and professional. I met with Carlos at a local coffee shop along with a small group of peers and we learned about diving with Nitrox and received all the information, over coffee, to pass the test. Four weeks later I had about 18 nitrox dives under my belt. Thanks to Carlos I am a competent Nitrox diver and am confident in testing and using nitrox while diving. When I had questions about my dive computer a few days after the course he came to my house and answered them with a hands on tutorial and even identified a problem with my gear when I was showing it to him. Thanks to Carlos I was safer and more knowledgeable for my trip overseas that month!

Pick up the phone or email Carlos and set up an appointment to meet. You may even make a friend.






Tyler B.
Salem, OR
0 friends
1 review
5.0 star rating 10/25/2014

My experience with Carlos at JCA Elite Scuba was fantastic! The personal one-on-one training he gives makes JCA the BEST way to go. I have never met anyone as passionate about anything than Carlos and his love for diving. He is eager to answer any and all questions and will stop at nothing to make sure you succeed as a diver trainee. He made the whole experience very comfortable for me and was flexible with the days we met for instruction and even offered me a payment plan. His business doesn't put profit first, it puts YOU first. I have invited so many of my friends to learn to dive and the person I recommend for the instruction is Carlos at JCA Elite Scuba! I can't wait to dive with my friend Carlos in the near future! And, thanks Bill for the referral!





Thomas O.
Hillsboro, OR
0 friends
4 reviews
5.0 star rating 10/25/2014

Carlos is a fantastic instructor-- He places great emphasis on safety and comfort in the water, critical to enjoyment underwater.. His classes are more in-depth than your typical dive shop class but the investment is well worth it in terms of the quality of the training and your comfort underwater.

His passion for diving and teaching compels me to achieve more and gain as much experience as I can. You can feel his love for this sport and IT IS INFECTIOUS!! Carlos also has deep respect for sea life and the ocean and it's preservation.

In terms of logistics, I would like to say say that Carlos is very accommodating with schedules and open to changes.

I did my training with Carlos for Master Diver and gained invaluable knowledge during the training. Carlos has a way of instruction that not only imparts his knowledge but gives you the confidence to obtain your goals, while maintaining the highest level of safety.

From adult to children, Carlos and JCA Elite scuba can provide a tailored program of instruction. Carlos is the only instructor i trusteed to teach my son his open water certification. Now with almost 25 dives under his belt, Carlos and JCA Elite scuba will be the only choice for his advanced training.

Even after the class sessions Carlos often offers up his own time to invite new divers to join him for fun! JCA Elite Scuba always has some type of organized dive being offered to keep people diving and meet new friends and dive buddies.

With a great attitude, uber-professionalism and a passion for diving, Carlos and JCA Elite scuba is your best option for dive training in Portland/Vancouver and surrounding area.






Lesley C.
Portland, OR
0 friends
2 reviews
5.0 star rating 12/8/2013

Finally conquered my drysuit! JCA Elite is the best show in town! I can't say enough about what a difference it makes to have individualized instruction tailored to your particular circumstances. Plus, I feel like I've gained a friend as well as a patient and knowledgeable instructor. The only problem I have now is whether or not to learn navigation techniques or night diving next. Two fins up!